Your January property market roundup from Quealy & Co
January's property market news is filled once more with COVID-19 related information. Of course, this is to be expected! What has been interesting is that the stats really do back us up when we say that the national and local property market is extraordinarily busy.
Whether this is from official government sources or company-sponsored research, the stats are showing that the housing market in the Sittingbourne area is buoyant and healthy, but there are also warnings that 2021 will be a challenging year.
As your trusted local North Kent estate agent, we look at some of the interesting changes in the property industry in January and give our house price growth predictions for the year ahead.
House prices rising
The Halifax House Price Index has confirmed that on a monthly basis, house prices in December were 0.2 per cent higher than in November, and up by a huge 6% compared to the same month a year earlier.
The news comes with a warning though, as Russell Galley, Managing Director at Halifax, commented:
"The monthly rise of 0.2 per cent was the lowest seen during this period and significantly down on the 1.0 per cent increase in November. The average house price was therefore little changed, but nonetheless still reached a fresh record of £253,374."
Good news in many ways, but there is that warning to take heed of too.
Property transactions Increase
Statistics from HMRC show that "the provisional seasonally adjusted estimate" of UK residential transactions in December 2020 is 129,400.
Analysis shows this is a huge increase of 31.5 per cent compared to December 2019 and 13.1 per cent higher than November 2020.
However, the Government is keen to point out that these figures are provisional and seasonally-adjusted, meaning that they cannot be taken as 100% correct. In any case, though, the market is certainly there. It will be interesting to see what happens when the Stamp Duty holiday comes to an end on 31st March.
Mortgage approvals hit impressive heights
Mortgage approvals have all but recovered following the forced closure of the housing market in spring 2020. Property portal Zoopla has reported that mortgage approvals increased to a "13-year high" in November.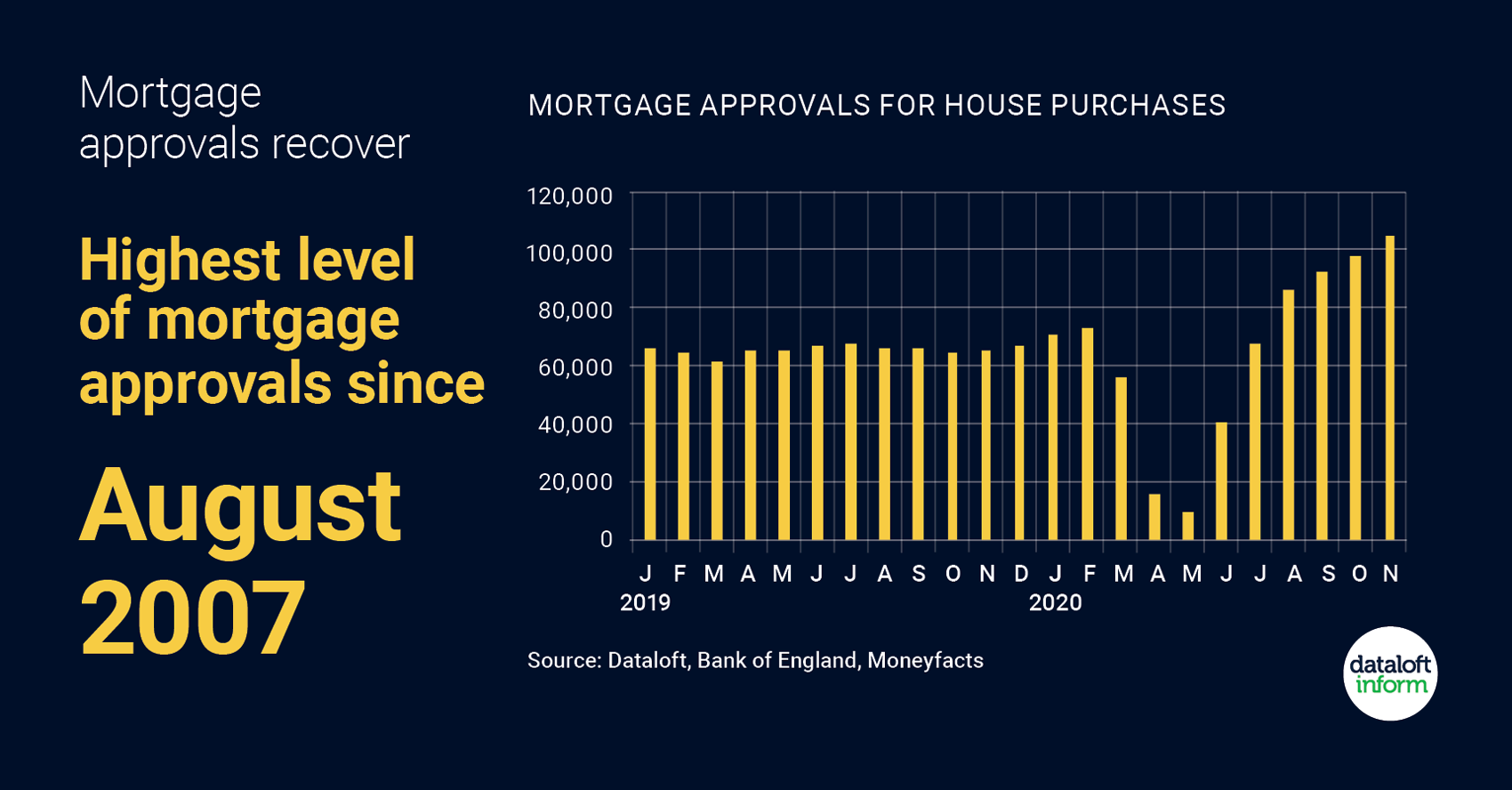 Quoting stats from Moneywise, Zoopla says this is a sure indication that whatever is happening in the world, the property market isn't slowing down anytime soon. The figures show that 105,000 mortgages were approved in November 2020, the highest level since pre-Global Financial Crisis.
Interestingly, Zoopla's report said that there were around 160 different deals for those with a 10 per cent deposit. That is an impressive increase from just over 50 deals in October, but far fewer than the 760 deals which were available in January 2020.
The remarkable recovery of mortgage approvals has been thanks to households re-evaluating their housing requirements and fuelled by the stamp duty holiday.
Lower borrowing costs for longer-term fixed rates
This comes at a time when product availability is beginning to return and average rates continue to fluctuate.
The rate gap for 2020 between two and five-year fixed rate mortgages has fallen to its lowest level in seven years, new data from Moneyfacts.co.uk has revealed, which could be good news for potential borrowers considering longer-term fixed rates.
A five-year fixed rate mortgage can provide some much-needed peace of mind and security during a time of economic uncertainty. However, they don't suit everyone as they carry penalties if you move or wish to make early repayments.
Quealy & Co have access to the best rates through our trusted, independent mortgage advisors. Get in touch to see if we can help you get a better mortgage deal that suits your circumstances and saves you money.
Over 55s eye an equity release
It is being reported that the COVID-19 pandemic and lockdowns are making people consider whether or not they want to be living in the property they are currently in.
Property Reporter cites research by Audley Villages which says that over 55s are "actively thinking about downsizing their home earlier as a direct result of the pandemic".
This perhaps is be taken with a pinch of salt because of course Audley Villages are all about retirement. However, it is a fact that the pandemic is making people think about their property requirements differently.
For example, there is solid evidence to show that people are moving out of urban centres and into the countryside. The reasons are numerous, but some are realising that they can work from anywhere, or are have decided they want to take life in a slower lane with access to green space.
Busy start to 2021
We have had a very busy start to 2021 at Quealy & Co Estate Agents. Numerous homes are selling within days, at the asking price or incredibly close to it, and record numbers of people have been getting in touch with us to find their dream home in and around Sittingbourne.
We have heard from our analysts at Dataloft that the house price forecast expects 0.9% growth in 2021. This year will be host to a lot of changes which will no doubt impact transaction volumes and house prices. There is the stamp duty holiday deadline, changes to Help to Buy, potential changes to Capital Gains Tax, 2% surcharge for overseas purchasers and let's not forget Covid-19 and Brexit.
We of course have strict procedures and guidelines in place because of COVID. The safety, health and well-being of our staff and customers is paramount. But rest assured that if you want to get moving, you can do so – and safely – with the Quealy & Co team.
Whether you are thinking about selling, letting, buying or renting, we aim to make the process as easy as possible for you. We are passionate about people and property and the industry we are in and we are experts in the North Kent housing market.
Call us on 01795 429836 or email hello@quealy.co.uk
Top