Gardens are highly sought after property feature
Many people wanting to sell their property focus on preparing their home for sale which makes perfect sense! But you should also be looking at what your garden offers to a potential buyer. After all, more and more of us are spending time at home and so want the outdoor space.
In fact, a recent study by Dataloft revealed that UK households are spending more on gardens, plants and flowers than ever before. At £7.6 billion, expenditure in 2021 was up by over £1 billion on 2020, and up 39% on five years ago. Nearly 90% of UK homes have a garden; with plants and flowers adorning terraces and internal spaces also popular, it's an easy way to make your home more appealing. The desire for outside space continues to feature highly in home buyer preferences and creating a home office in the garden is increasingly popular. So, what sort of garden improvements should you be doing to add value to your home?
Here at Quealy & Co Estate Agents, we take a step outdoors and share our top tips on garden improvements. These tips won't necessarily add monetary value to your home, however they will certainly make your property more attractive to buyers.
Fix it up: Complete outstanding garden jobs
First of all, fix things. You know that fence panel you have been meaning to sort for a while now? Get it done. That outside tap with a slight leak? Sort it out. And as for that cracked paving slab on the patio right by the French doors? Come on, either do it or get someone in to have a look at it!
Seriously, gardens are so important and they have to look good. If someone sees a messy, overgrown garden, they may have difficulty seeing past the weeds and miss the potential. They'll see hard work and that is not for everyone. It also makes people wonder just how well you have looked after the rest of your home.
Home office: Add a garden structure
As we have said, more and more of us are spending time at home. Working, but at home. There are pitfalls to working at home, and one of those is finding a balance between work and home life.
The easiest way to separate the two is to – separate the two! A garden office provides that distance to lock yourself away and work without home life getting in the way. You can also step out of your garden office at the end of the working day, lock up, and then, quite literally, go home.
Costs of installation (and quality) vary, so you'll need to do your homework.
Dine out: Create outdoor eating spaces
When the summer sun hits the sky, we all love being outside. Dining al fresco is something to cherish. Imagine a lovely breakfast on the patio or a BBQ with friends as the sun sets. A nicely maintained garden patio or decked area will work wonders for your home's appeal to a prospective buyer. If you have garden furniture, arrange it so that people can picture themselves there.
Lighten up: Add mood lighting to the garden
Adding value to your garden could mean making it more appealing. Use lighting to lift darker areas. You could add small solar lights to light up pathways, or a net of twinkling stars woven over a tree's lower branches. You could have a fixed, electric light too, either for cosmetic purposes or security. It fully depends on your budget. What is certain is that good use of lighting will benefit you when it comes to selling the property.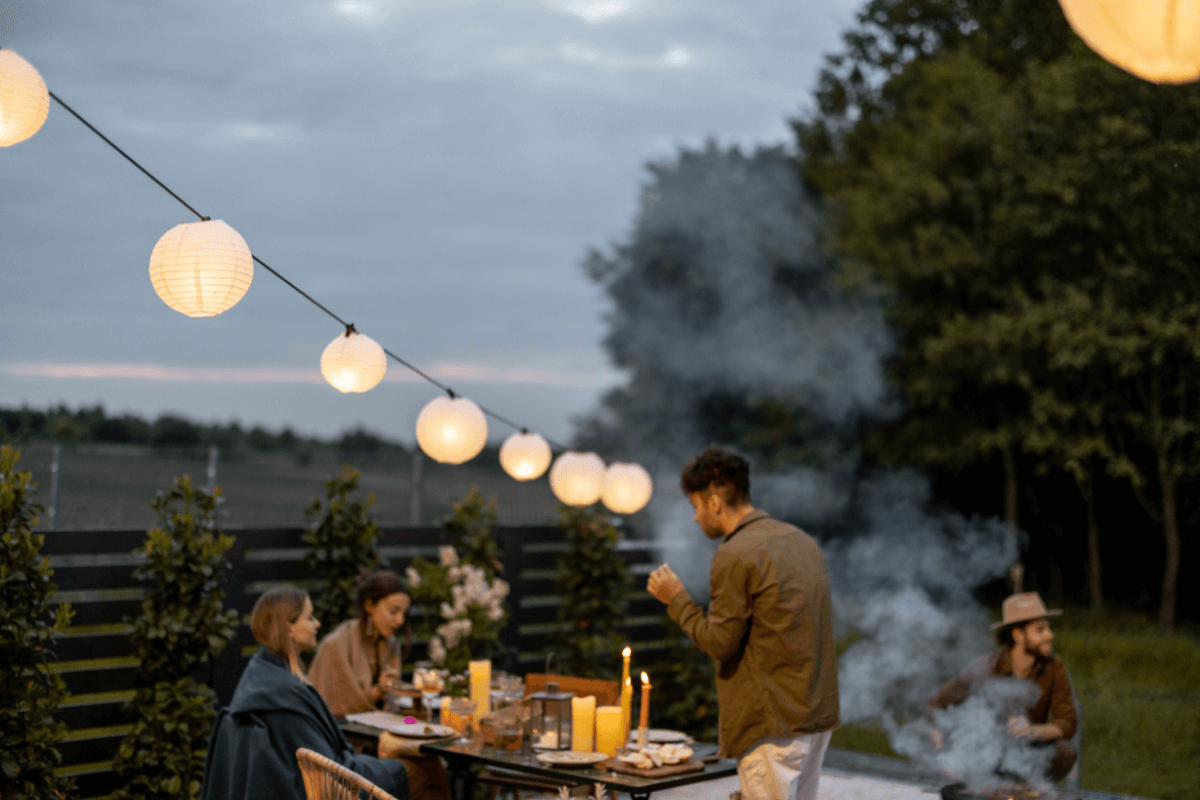 Home takeaways: Eating out…in!
Eating at home rather than eating out has become the norm so it's unsurprising that there are items you can purchase to enhance the experience – a bar area for example, or a pizza oven maybe. Some potential buyers will love that you have something there for them to make use of. These things won't add much to the actual value of your home, but, what you are doing is adding value and standing out.
Outside and in: Merge the two
When you think of the garden, also think of how the garden and the house work together. For example, how do you exit the house to go into the garden? Could you add bi-fold doors to the property? This will be relatively costly, but the impact means you are more likely to add real value to the house.
When you are thinking of garden improvements, you can think big but you should also think small too. You could do some building work, or you could just ensure you get the small things done well. You could install a fake grass landscape, or you could make sure real grass is cut properly.
Quealy & Co are here to help
Whether you are thinking of selling your home in the Sittingbourne area, or would just like to improve your property, ask us for our opinion as we are more than happy to share our advice and expertise on how to add value.
Quealy & Co Estate Agents are your local property experts for the Sittingbourne area. Call us on 01795 429836 or email hello@quealy.co.uk to chat with a member of our friendly and experienced team.
Top