As a leading and trusted estate agent in north Kent, Quealy & Co understand how important it is that landlords are kept up to date with the latest legislation and lettings industry changes. If you want to maximise the return on your property, you need an experienced and professional letting agent.

That's why we release a monthly Landlord Update to help guide you through the lettings process. In this article we talk about changes in rents, the eviction ban, electrical compliance and our predictions for the lettings market in 2021.
---
Residential rents rising

The Office of National Statistics reported a 1.4% annual increase in private rents in November and according to agents, tenant demand was more or less unchanged. All regions in England saw an increase in private rents. The South West saw the biggest annual increase at 2.3%. Scotland had the smallest annual increase, 0.6%. Near term rental growth expectations remain slightly positive, with most parts of the UK expecting an increase. London is a clear exception.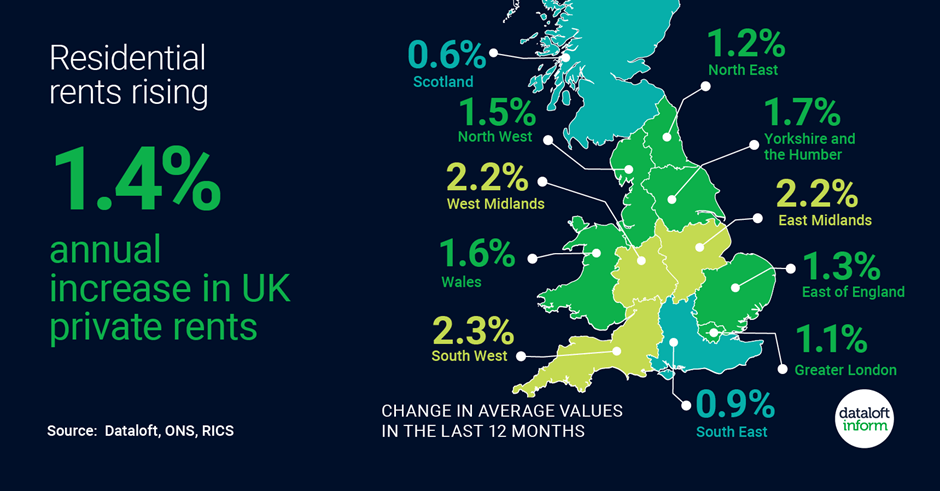 According to Dataloft Rental Market Analytics, 28% of leases are set to expire in Q1 2021, so this is predicted to a be a busy time for the landlords and letting agents, since house moves can continue under the latest lockdown guidelines. Source: Dataloft, ONS, RICS
---
Government extends eviction ban

The evictions ban in England has been extended for a further six weeks, meaning that evictions will not be enforced by bailiffs until 21 February 2021 at the earliest, aside from in the most "egregious cases". The "court rules and procedures introduced in September to support both tenants and landlords will remain in place and regularly reviewed" and a new mediation process will also be piloted in February.

The evictions ban will not be applicable in "egregious cases", including "anti-social behaviour, illegal occupation, death of a tenant where the property is unoccupied, fraud, perpetrators of domestic abuse in social housing and extreme rent arrears equivalent to 6 months' rent."

As when this ban was first announced, courts will "continue to prioritise cases, such as those involving anti-social behaviour, illegal occupation and perpetrators of domestic abuse in the social sector".

The new "mediation pilot" in England and Wales will offer mediation from February 2021 "as part of the possession process to try and help landlords and tenants to reach a mutual agreement and keep people in their homes". The mediation is expected to help courts to prioritise urgent cases, "without the need for a formal hearing".

However, rent arrears greater than six months are exempt from evictions ban. The guidance for landlords and tenants during Covid-19 has been updated to make serious rent arrears "greater than 6 months' rent" exempt from the extended evictions ban in England - removing the stipulation that rent accrued since the start of the first lockdown in March 2020 could be discounted.

The guidance is constantly changing on this topic. This article is intended as a guide only, for the very latest information, please visit gov.uk.
---
Lockdown makes electrical compliance harder, warns trade body

NAPIT - the National Association of Professional Inspectors and Testers - is reminding landlords that by April 1 2021 all homes with an existing specified tenancy are required to have in place, or to have carried out, an Electrical Installation Condition Report.

It must be completed by a "qualified and competent person" to abide by the new regulations.

The new rule states every electrical installation in the residential premises must be inspected and tested at intervals not exceeding five years, and if the resulting EICR is found to be unsatisfactory then remedial and further investigative work needs to be completed within 28 days of the report being carried out.

The Electrical Safety Standards in the Private Rented Sector (England) Regulations 2020 were published in January 2020, when Covid-19 was unknown.

NAPIT says the nationwide restrictions in place now have undoubtedly made complying with these regulations more challenging than was intended, due to restricted access to homes, restricted working, shielding, isolating and anxiety.

However, the safety of people in their homes is paramount to the government who have made it clear that all reasonable steps must be taken to ensure the electrical safety of privately rented homes. To that end, the government has published new guidance for local authorities on the enforcement of standards in rented properties, which includes provisions on the Electrical Safety Regulations. This guidance can be reviewed here.

Here at Quealy & Co we are working against the clock to ensure all our landlords' properties are compliant and we are confident that none of our landlords will be exposed at all.
---
2021 predictions

2021 is a difficult year to plan for: however, there are certain predictions that can be made based on the current state of play in the property market.

We can say with some confidence that there will be a strong start to 2021 for sales because of the stamp duty holiday deadline at the end of the first quarter. Lettings will remain strong because people will still need to move and 28% of leases are due to expire in the first quarter of the year.

In 2021 the Renters' Reform Bill could see Section 21 of the 1988 Housing Act abolished (which gives landlords wide powers to evict tenants). Some surveys show that 33% of landlords might look to exit the market if the abolishment of Section 21 does go ahead. If this is the case then experienced property investors could take advantage of the gap in the market as demand for rental properties will increase.

There are also changes to carbon monoxide regulations and energy performance regulations coming up. The Quealy team will keep you up to date with these changes in future editions of our monthly landlord updates.
---
Here for landlords throughout 2021

If you need any advice or have any questions, do not hesitate to contact the Quealy team in Sittingbourne. We are here to support landlords and tenants throughout 2021. You can reach us on 01795 429836 or email hello@quealy.co.uk
Top